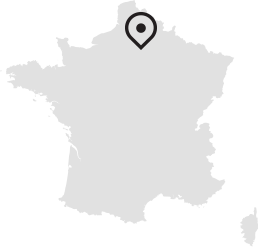 Created in the 1950's in the heart of the Flea Market of Saint Ouen and now based in Montreuil, near to Paris, Edet International is specialised in packing and shipping antiques and works of art throughout the world. Our multicultural and dynamic team enables us to satisfy the specific requirements of a growing and faithful international clientele. All of our office employees are perfectly bilingual in at least French and English, so there are no communication barriers. Our team of professionals is specialised in each step of your shipment including collections, packing, crating, shipping as well as export and import formalities.
Our Services
We offer you a comprehensive and personalised service. From the point at which you contact us through to the safe arrival of your merchandise, we take care of everything.
Collections
We can organise the collection of your merchandise with meticulous care from anywhere in France, Belgium, Switzerland, Italy or the UK, whether it be at an auction house, gallery, antique dealer, private house, or professional fair.
Packing
We appreciate how important the quality of packing is for the safe arrival of your merchandise, which is why we only use conservation-approved materials, including acid-free tissue paper, bubble wrap, polystyrene & foams. Each piece is individually assessed by our highly skilled team, and then packed in such a way as to minimise the risk of damage.
Casing
After packing, tailor-made cases are cut and assembled by hand in our on-site workshop by our expert craftsmen. As well as the nature of the merchandise, the mode of transportation determines the type of crate required: tri-wall, ply-wood, slatted-body crate or re-usuable museum crate. All our wood is treated in conformity of the ISPM 15 standards.
Insurance
From the moment your merchandise passes into one of our team member's hands, it is covered by the all-risk insurance, inherent to our activity. Additional transit insurance coverage is offered at competitive rates. For further information on our policies, please contact us.
Road freight
We provide a weekly shuttle service between Paris & London. We can also organise delivery to most European countries. For Russia & Switzerland we offer a comprehensive service including customs clearance and inland delivery.
Air freight
Several air freight options are available: Door-to-airport (incoterm CPT) / Door-to-airport-to-door (incoterm DAP) including white glove delivery service if required / Door-to-door via an express courier
Sea freight
We organise full container load shipments (FCL) to all destinations worldwide. All the merchandise is loaded by our experienced handlers and the containers sealed at our in-house loading bay. We also have a trusted partnership with an external consolidator for all of your less than container load shipments (LCL).
Storage
We have a 25 000sq ft warehouse equipped with a modern CCTV security system and alarms. Our storage is composed of safety compartments reserved for extremely valuable or fragile items and nominative individual storage areas, where clients can amass their purchases until they are ready to proceed with shipment.
Customs clearance
We take care of the necessary export formalities for all of your shipments in accordance with French regulations, including: EUR1, ATR, Passports & Export licences, Certificate of Origins & CITES.
Client account facilities
We have a client account service dedicated to helping you with your financial transactions with dealers. We accept transfers in all currencies, which are credited to your purchase buying account in Euros.
Buying Trips
EDET are present at all the major antique fairs in France and Italy. Whether you are an international antique dealer, an interior designer or just an individual with a passion, we will assist you throughout your buying trip to ensure that everything runs smoothly. We provide buying kits in order to record and identify your purchases.
I have used EDET International for more than 20 years to ship art and furniture from Paris to the United States and I can recommend them for any and all shipping needs.
Richard Ulevitch PhD, La Jolla 92037, USA
I wanted to let you know that the trumeau and the painting arrived safely at my home in California. I really appreciate your kind help from counseling me on the best way to send them, to making sure they would be picked before I left France and shipped promptly. Please, if you have a chance, thank for me the person who prepared the package as it was done with great care. Again, thank you.
Valerie Bisson-Goldberg, Calabasas CA 91302
For the past fifteen years, we have been using Edet International for our exports and imports all over the world. The quality of services provided and the responsiveness of the team are very appreciable, from requesting a quote to receiving customs documents. Real competence regarding our requests concerning the legislation in force in the countries concerned. The quality of the work is equal to the quality of the furniture.
Makassar Galerie, Paris, France
I received my items you shipped today. I just wanted to thank you for your expert shipping. I have purchased a lot from international auction houses and you are simply the best shipper I have ever used. Thank you very much again and I hope to do business again with you in the future!
Joseph Shook, Roseland, NJ 07068, USA
Where to find us ?
Phone: 00 33 1 48 59 11 73
Email: info@edetinternational.com
Address: EDET International BP 101 – 19, rue du Progrès 93511 Montreuil
HoursMondays - Fridays 9 - 18h
Bureau au Marché aux Puces
Phone: 00 33 1 49 45 07 17
Email: info@edetinternational.com
Address: EDET International Marché Biron – 85, rue des Rosiers 93400 Saint-Ouen
HoursFridays 10-12h / Saturdays – Mondays 10-17h